"Part of our culture at SS&M is being an active participant in our industry, and our community. All of our employees are encouraged to actively participate and volunteer in national, regional, and local industry organizations and events. As a company, we also search out local community needs and as a group, try to "Give Something Back" to the communities that provides us our homes and livelihood."
Ken Coulter, SS&M President
Shad's R&R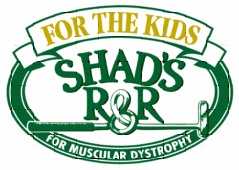 Shad's R&R is an annual event widely supported by the automotive industry's aftermarket suppliers, distributors, jobbers and retailers. It all began as a friendly golf event between a handful of supplier competitors back in 1975. The initial game raised $1,500 from various wagers (similar to today's Skins Game on the Pro circuit), and all participants agreed that the game winnings be allocated to a worthy cause. The Canadian Muscular Dystrophy Association was selected by the group as the recipient to the proceeds that year.
The group also decided that the event be held annually and that the group expand the participants to include a broader group of suppliers and their customers. The Canadian Muscular Dystrophy Association continues to be the recipient of all proceeds generated from the annual golf event. From this humble beginning, the golf outing has become a major contributor to Muscular Dystrophy research in Canada.
Shad's R&R has always been held on the 2nd Thursday of June. The one day event has close to 300 industry professionals competing in the golf tournament, donating a variety of prizes and participating in a wide range of fund raising programs.
Specialty Sales & Marketing is proud to be actively involved in Shad's R&R on an annual basis. As of 2017, Shad's has raised more than $4,800,000 and future events are in place to continue financial contributions to support the ongoing cost of research in the never ending search for a cure for Muscular Dystrophy.
High Fives for Kids Foundation
Specialty Sales & Marketing's President, Ken Coulter, is Honorary Chairman of AIA Canada's High Fives for Kids Foundation – a charitable cause for Canada's automotive aftermarket industry. The High Fives for Kids Foundation provides both grants and scholarships. The grants support local or national registered charities that have programs for the benefit of children and youth.
The broad focus of the foundation is to allow AIA to support a variety of community groups in many activities such as buying a wheelchair, sending kids with diabetes or a disability to a summer camp, rebuilding a community center, or helping a local hospital for children. The issues that affect the ability of a child to grow up in a safe, nurturing environment are vast and often overwhelming. For more information, please visit AIA Canada's website: https://www.aiacanada.com/who-we-are/our-charities/high-five-for-kids-foundation/ 
SS&M Community Support Fund
In December 2017, the SS&M Community Support Fund made a $500 VISA gift card donation to a family in need in Taber, Alberta. We were happy to be able to help this deserving family just in time for Christmas.
In October 2017, the SS&M Community Support Fund made a $600 donation to purchase a television for a silent auction fundraising event that was put on to help support a long-time WestCan employee in Merritt British Columbia who suffered a major stroke this past summer.
In December 2016, the SS&M Community Support Fund made two donations. The first was a $500 donation of food and gifts for families in need in Churchill Manitoba through the Churchill Hamper Program.
The second was a $250 donation to an organization also in Manitoba called Grannies Gone Global –http://www.granniesgoneglobal.com/. Grannies Gone Global is a non-profit organization which connects and supports grandmothers who are raising their grandchildren in Winnipeg's North End. The organization helps many children whose biological parents are not involved for one reason or another.
In December 2015, the SS&M Community Support Fund sponsored a family of four in need through the the Halton Links2Care 2015 Holiday Giving Program. Through this program, sponsors purchase gifts of new warm winter clothing for children 0-12 and toiletries and gift cards for teens 13-18.
In September 2014, the SS&M Community Support Fund made a $500 donation to Gerry Walls from Trio Supply in Sault Ste. Marie, who suffered a stroke and required care.  The Jobber store held a benefit on September 19th to assist him with his ongoing care and SS&M was happy to be able to make this contribution.
Late in 2013, SS&M made a $750 donation to Complexe Le Partage http://www.lepartage.info/ which provides food and other necessities to families in need during the holiday season in Quebec. SS&M was able to put together three holiday hampers, one for a family in each designated city: Ste-Catherine, La Prairie and St-Constant. Each hamper included approximately $100 of non-perishable grocery items that are most needed by these families as well as a $150 gift card
In early 2013, the SS&M Community Support Fund was very happy to make a $1,200 donation to Brian Donato, a presenter at our 2013 National Sales Meeting who was paralized in an accident in April 2010.
In 2012, two donations were made by SS&M on behalf of the SS&M Community Support Fund. First off, earlier this year, we donated $1,000 to the family of a young 17 year old girl from Tignish PEI who was seriously injured in 2010 in a car accident. As she was still recovering in a hospital in Fredericton, the money raised was put towards building a wheelchair accessible home for her and her family.
Secondly, in September, we donated $250 (SS&M matched with an additional $250) to the family of Glenn Slater, of A.P.M. in Moncton. Glenn was diagnosed with terminal cancer and a fundraiser was put on to help his family who was in need of financial support. Sadly, Glenn has since passed away.
In early 2011, the SS&M Community Support Fund donated $3,000 of money raised to a very worthy individual from our industry in Newfoundland.
In October 2009, Specialty Sales & Marketing began our very own fundraising initiative called the SS&M Community Support Fund. SS&M staff are encouraged to donate what they can with the goal of helping people in need in our local communities. Our first goal was to raise between $500 and $1000 before Christmas 2009 with the hopes of donating to the Links2Care Holiday Hamper program in the Halton Hills, Ontario community.
SS&M is happy to announce that we surpassed our first goal and raised a total of $1085.00 by the deadline, which went towards purchasing Christmas gifts for a family in need through the 2009 Links2Care Holiday Hamper Program!